How hot can floor heating make timber laminate products?
Improved sustainability value makes bamboo floating floors increasingly more popular than solid timber boards. Resilient laminates, like the new Schneid Microlite composite floating floors, also enjoy increased popularity in young families homes due to the high resilience factor.
They are both dense materials (Bamboo has a higher density than most floating timber, Microlite flooring is a mixture of crushed stone powder and resin) and therefore we expect both forms of flooring to conduct the floor heat well.
The Coldbuster heater used was a higher wattage timber heater (output 160W/sqm) installed on top of 7mm Dunlop Aquacoustic underlay over concrete. The heater was set to run at full power for 14 days in the static air environment of our warehouse, from 8am – 6pm. Temperature measurements were taken by a FLIR i7 infrared camera at 9am, 1pm and 5pm Daily.
 
For both Bamboo and Microlite flooring the average warm up time was 35min.  During the test the average ambient air Temperature was 24.6 degrees and the average temperature of the concrete was 22.2 degrees. The average temperature of both floor surfaces reached 34 degrees.
Surface Temperature of Bamboo (last column)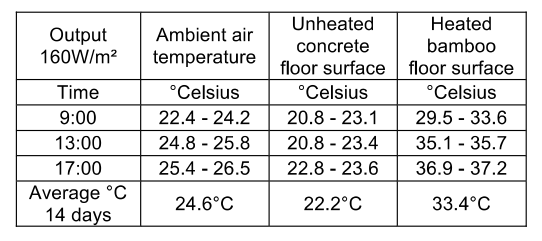 Surface Temperature of Microlite (last two columns)
The Bamboo heated to an average of 33.4 degrees and the Microlite composite averaged 35.6 (10mm) and 34.1 (15mm) degrees Celcius (measurements are all taken from the surface temperatures of the material). Other results from the test were;
1. Although the bamboo surface exceeded the 27-28 degrees, the bamboo boards remained stable and did not buckle or warp.
2. The 10mm Microlite boards had marginally better heat conduction than the 15mm and similarly, did not buckle or warp.
Unfortunately, floor heating cannot be applied underneath existing timber floors and It should be noted that most timber laminate products have temperature limitations of around 27 degrees. In which case the Coldbuster thermostat uses a floor limitation probe to limit the heating output of the cable.
Need Electric Underfloor Heating?