Coldbuster In-Screed Heating
This video is a guide to the in screed heater installation process.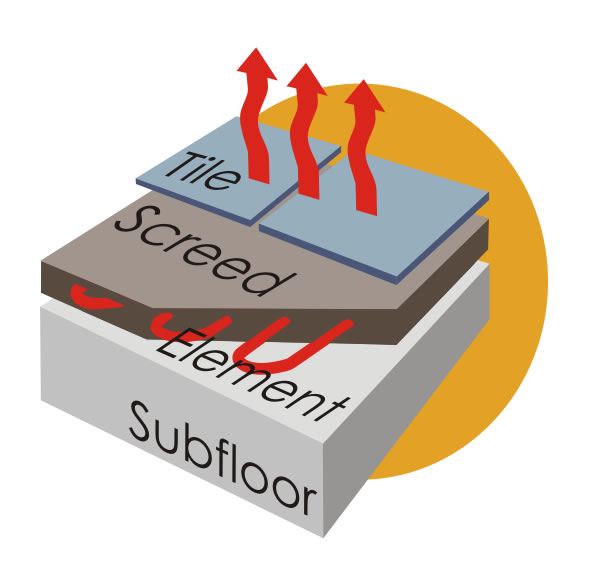 The Coldbuster screed heater is a bi-directional, single ended 6mm cable is rated at 18W/m and is supplied as a cable on a roll. To achieve a specific wattage per square meter, secure the cable at the spacing centres recommended on your heating design.
Heaters have 2.4m long power leads that can be connected to an optional programmable or manual thermostat control. A range of 10 standard lengths or combination of these lengths caters for all room sizes e.g. from small bathrooms to large halls.
Optional thermostatic comfort control
Complete comfort control is easily achieved with the addition of optional manual or programmable thermostats available through Coldbuster. Automated operation enhances the energy efficiency of the Coldbuster carpet heating system. Programs can be set to regulate comfort levels via floor or room air temperature, up to 4 cycles per day, accommodating different weekday and weekend routines.

Unobtrusive and safe
Coldbuster in screed heating cable can be installed directly on concrete re-enforcing or secured to an optional metal 'fixing rail' for in screed heating application. Coldbuster in screed cable is suitable for the majority of floor finishes. The heater is waterproof, fully earthed and needs to be connected to a RCD protected circuit after installation to ensure full protection against fire and shock hazards. Coldbuster screed heating systems comply with IEC specifications and carry the CE mark.
Multi application heating system
The 6mm thick Coldbuster screed heating element is installed in a cement layer of the screed or tied to the reinforcing steel in the concrete slab. Following the recommended layout provided, unroll the heater element roll and tape down to change the direction as illustrated below. Care must be taken to never cut or cross over elements. The various ways to fix the cable in position include; In-Slab application – The cable is tied to the reinforcing mesh In-Screed application – Clip cables on to the metal fixing rails, which are nailed to the slab. In-Screed on waterproofing, tie cable to reinforcing mesh, or secure cable with duct tape. (Metal fixing rails can be used if glued onto the waterproofing).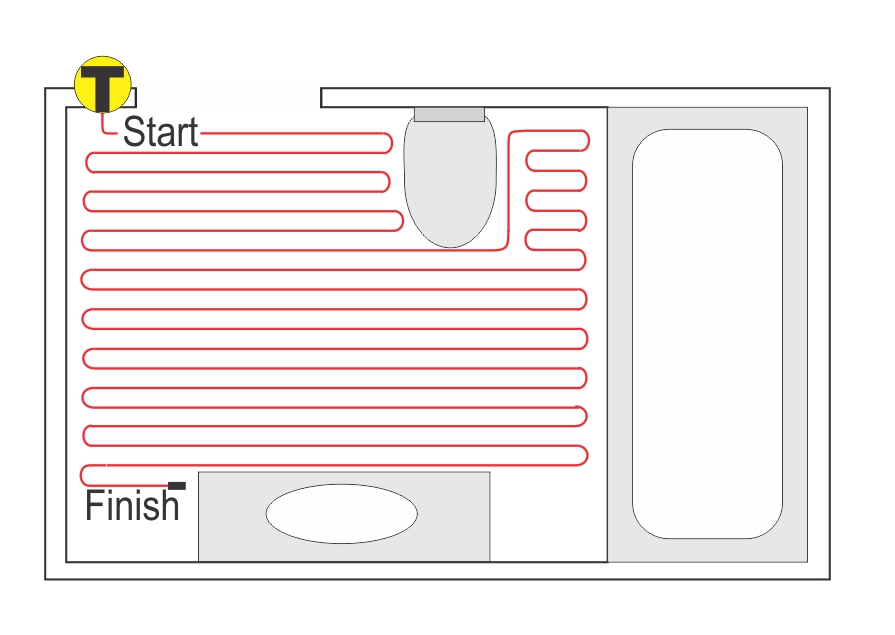 Coldbuster tile heating is classified as an appliance and can be installed by a competent person. The heater must be connected to a RCD (safety switch) protected circuit by an electrician. All wiring must conform to AS/NZS 3000:2000 and local wiring regulations.
Service & support
Coldbuster provide a free design service and planning advice for your complete room heater layout. We are available to answer your questions relating to electrical preparation or installation of your floor heating system. If you prefer to leave the installation to a floor heating contractor, a professional design & installation service is available across Australia.

Robust Screed heating cable
Coldbuster screed heating cable comes in 10 different lengths. A combination of these lengths caters for all room sizes e.g. from small bathrooms to large halls and acts as the primary or secondary heating source.The screed heating cable features;
Bi-directional, single ended 6mm cable, rated at 18W/m and supplied as a cable on a roll
Factory terminated single 3m long cold tail power lead
Element & cold tail connections are fully earthed & waterproof
AE-SS installation monitor (element alarm/tester) with batteries
Personalised floorplan layout available upon request
Installation guidelines
Technical & installation support (telephone and/or email)
20 Year warranty