The Coldbuster 100W/m2 under floating timber or laminate heaters are supplied as a pre-configured strip on a 500mm wide roll. Double sided tape and self adhesive fibreglass mesh holds the element in consistent spacing. The 500mm rolls come in a range of lengths to cater for rooms of different shapes and sizes. Heaters have 2.4m long start and finish power leads that can be connected to a manual or programmable thermostat control. Multiple mats can be combined on one thermostat to cover larger areas.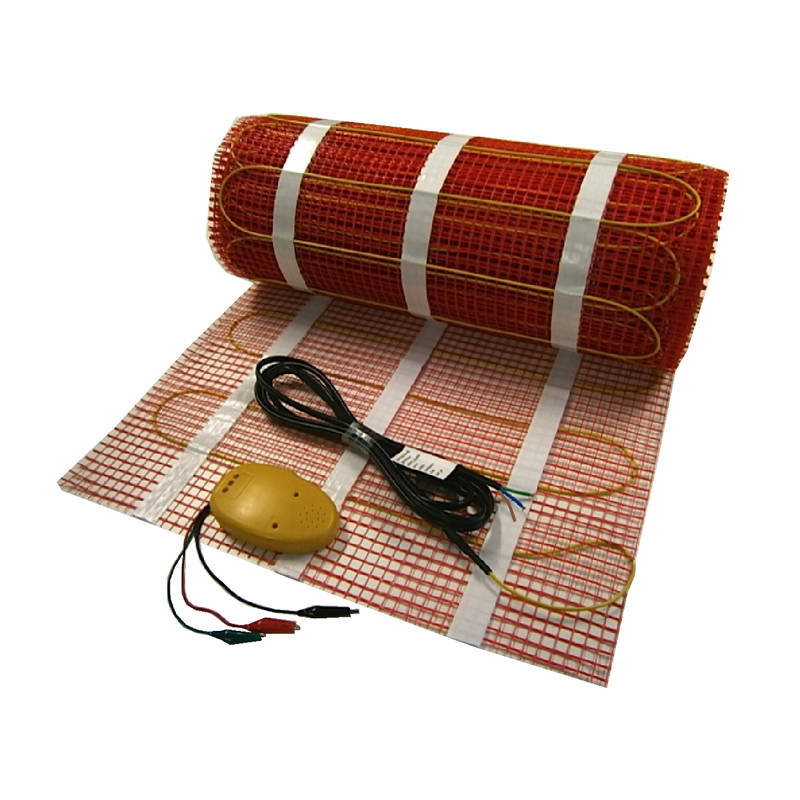 Coldbuster floating timber or laminate heating features
Pre-configured timber heating strip (500mm wide)
Factory terminated power 'cold tail' leads
Element & cold tail connections are fully earthed & waterproof
1.5mm thin element does not affect floor levels
Durable & reliable
Easy installation, no special tools required
20 Year guarantee

Thermostatic comfort control
Complete comfort control is easily achieved with the addition of optional manual or programmable 
thermostats
 available through Coldbuster. Automated operation enhances the energy efficiency of the Coldbuster carpet heating system. Programs can be set to regulate comfort levels via floor or room air temperature, up to 4 cycles per day, accommodating different weekday and weekend routines.
Unobtrusive and safe
Coldbuster floating timber heating is installed below the normally thin timber underlay, on top of the concrete slab or timber subfloor. The 1.5mm thin heating element comes as a pre-configured 500mm wide strip. The heating element is spaced wider than tile heating cable which gives it a lower wattage output per square meter, resulting in a more moderate output of the timber floor. The heater is waterproof, fully earthed and needs to be connected to a RCD protected circuit after installation to ensure full protection against fire and shock hazards.
Coldbuster heating systems comply with IEC specifications and carry the CE mark. 

Multi application heating system
Coldbuster floating timber heating systems have been used across Australia for residential, commercial and industrial applications including houses & apartments, churches, halls, public buildings, aged care homes, schools & universities to name a few examples. The 1.5mm thin Coldbuster floating timber heating element can be installed on top of timber construction subfloors (such as on top of particle board) or the heater can be installed directly on top of a concrete slab – perfect for retrofit and/or renovations as there are no screeds raising floor levels.
Straight Forward Installation
Installing Coldbuster floating timber heating is easy and no special tools are required. A detailed installation manual and personalised layout is supplied with each Coldbuster floating timber heating kit to detail the floor preparation, electrical requirements, heater installation and thermostat connection. Additional technical and installation support is also available via the website or via phone. Following the recommended layout provided, unroll the heater strip and cut the tape that holds the heater in its configuration to change direction as illustrated below. 
Care must be taken to never cut or cross over elements
.
Service & support
Coldbuster provide a free design service and planning advice for your complete room heater layout. We are available to answer your questions relating to electrical preparation or installation of your floor heating system. If you prefer to leave the installation to a floor heating contractor, a professional design & installation service is available across Australia.
Comprehensive tile heating package all in a single kit
Coldbuster floating timber heating kits are available in four different strip lengths. By using one or more of these heaters any room size and shape can enjoy under floor heating as a primary or secondary heating source. The Coldbuster timber heating kits include:
Pre-configured element mounted on self-adhesive tape
Thin heating element which does not affect floor levels
Factory terminated single cold tail power lead 3m long
Element & cold tail connections are fully earthed & waterproof
Self-adhesive fibreglass mesh 500mm wide
AE-SS installation monitor (element alarm/tester) with batteries
Easy installation, no special tools required
Personalised floorplan layout available upon request
Installation guidelines
Technical & installation support (telephone and/or email)
Durable & reliable
20-year warranty
Coldbuster tile heating is classified as an appliance and can be installed by any competent person. The heater must be connected to a RCD (safety switch) protected circuit by an electrician. All wiring must conform to AS/NZS 3000:2000 and local wiring regulations.