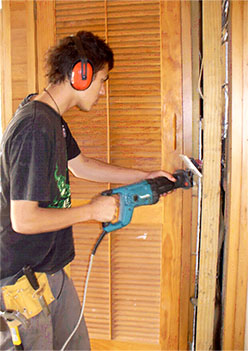 "The Block" serves as a great inspiration for DIY home renovation.
Now in its eighth season, Australia's favourite renovation reality show, "The Block" is continuing to inspire homeowners to keep their dwelling in perfect shape the easy, economical way.
In its latest episode entitled "Make a Man-cave Like Scotty's", viewers were able to witness how The Block experts turn a disorganised, unappealing space into a cosy living area. Particularly in this economic climate, DIY is becoming a popular and cost-effective solution to renovating a home.
Tips for DIY Home Renovation
Despite the show making DIY renovation seem fast, fun and easy, it takes slightly more thought and planning than what viewers see on TV. With that said, here are highly recommended considerations homeowners may need to look into when commencing DIY projects:
Plan and Budget – Check the house first and write down everything you need to fix, buy and hire. It might also help to consider the season. For instance, if winter's on its way, you may consider installing a new and efficient heating system. If you're in for a long hot summer, it would be good to ensure your cooling system is fully functional.
Time Frame – Try to accurately estimate the completion date to ensure the project receives adequate attention throughout. Stay organised; determine in what order you're going to work on different parts of the house.
Expert Advice – Consult an expert before pursuing your DIY project. Visit an interior home designer and ask questions. Most people are happy to share their knowledge and expertise.
Execution – Keep a detailed plan and follow this throughout the project. This will help you stay within budget and, at the same time, complete the task on time.
There is plenty to learn about DIY home renovation from The Block. Tune in for the show's newest episodes for regular updates.
Need Electric Underfloor Heating?